Eighteen Generals of Echigo Province
(Echigo jûhasshô, 越後十八将)
Publisher: Mikawa-ya Kihei
1854
Takeda Shingen of Kai Province conquered Shinano Province in 1547, expelling Murakami Yoshiharu and Ogasawara Nagatoki, who turned to Uyesugi Kenshin of Echigo Province for help.  A series of battles between the forces of Takeda Shingen and the forces of Uyesugi Kenshin were fought on the plain of Kawanakajima in the northern Shinano Province near the modern-day city of Nagano.  The five major battles took place in 1553, 1555, 1557, 1561 and 1564.  Although the number of prints in this series is unknown, Robinson lists only these two designs.  The Echigo generals were Fushiki-in Daisôdzu Kenshin-kô, Amakazu Ômi no Kami, Arakawa Idzu no Kami, Honshô Yagorô, Iimori Settsu no Kami, Kakizaki Idzumi no Kami, Karazaki Sama-no-suke, Momonoi Sanuki no Kami, Mori Kadzusa no Suke, Nagai Tamba no Kami, Naoye Nyûdô, Naoye Yamashiro no Kami, Onikojima Yatarô, Saitô Shimotsuke no Kami, Shikiyama Suô no Kami, Shintô Dewa no Kami, Takanashi Gengorô, Usami Suruga no Kami and Uyesugi Kiheiji Kagekatsu.  The prints in this series are each about 14 by 10 inches (36 by 25 centimeters), a size known as ôban.
<![if !vml]><![endif]>

General: Arakawa Idzu no Kami Tamemitsu adjusting the sleeve of his armor with the armor's storage box behind him

Robinson: S83.1

<![if !vml]><![endif]>

Title: Kanetsugu of Noeyama Castle (直江山城兼次)

Description: Naoye Yamashiro Kanetsugu seated in armor on a fur rug with his sashimono (flag attached to the back of armor) bearing a mon of three snails

Robinson: S83.2
   'Robinson' refers to listing in Kuniyoshi: The Warrior-Prints by Basil William Robinson (Cornell University Press, Ithaca, NY, 1982) and its privately published supplement.
CLICK HERE TO RETURN TO MAIN PAGE
<![if !vml]>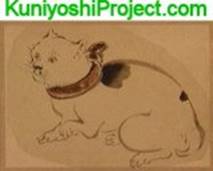 <![endif]>