A Hundred Heroic Stories
(Eiyű ippyaku den, 英勇一百傳)
Publisher: Fujioka-ya Keijirô
c. 1851
This is listed as a series, in deference to Robinson's precedent, even though only a single design is known.  The print is about 14 by 10 inches (36 by 25 centimeters), a size known as ôban.
<![if !vml]><![endif]>

Scene: Tomoye-gozen standing with a robe over armor and holding a naginata

Robinson: S69.1
"Robinson" refers to listing in Kuniyoshi: The Warrior-Prints by Basil William Robinson (Cornell University Press, Ithaca, NY, 1982) and its privately published supplement.
CLICK HERE TO RETURN TO MAIN PAGE
<![if !vml]>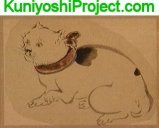 <![endif]>