Designs of Modern Actors for Collage-pictures Battledores
(T˘sei yakusha oshi-e hagoita, 當盛役者押絵羽子板)
Publisher: Yamaguchi-ya Tobei
1832-1833
Battledores (hago-ita) are rackets used in a game similar to badminton called ôbattledore and shuttlecockö in English and ôhanetsukiö in Japanese. A shuttlecock (hane) is volleyed back-and-forth without a net. The game is usually played by women and children. In this series of prints, kabuki actors are pictured on battledores. This series is not listed in Kuniyoshi by Basil William Robinson (Victoria and Albert Museum, London, 1961).á The prints are each about 10 by 14 inches (25 by 36 centimeters), a size known as ˘ban.
<![if !vml]>
<![endif]>
Actors: Ichikawa Sumiz˘ III in an unidentified role (left), Iwai Hanshir˘ V as Nanaaya (center), and Ichikawa Ebiz˘ V as Kid˘maru (鬼童九right)
Play:
Theater:
I am grateful to Marc DeVriese for this image.
<![if !vml]>
<![endif]>
Actors: Seki Sanjűr˘ II as Usui Sadamitsu (left), Onoe Kikugor˘ III in an unidentified role (center), and Band˘ Mitsugor˘ IV as Watanabe no Tsuna (網or綱, right)
Play: Band˘ musha tsunagate Hajime (坂東武者綱手始)
Date: 11th month of 1832
Theater: Ichimura
Publisher: Yamaguchi-ya Tobei
<![if !vml]>
<![endif]>
Actors: Arashi Kanjűr˘ I as Kawagoe (left), Iwai Tojaku I as Tatsuyasha (center), and Matsumoto K˘shir˘ V as Yoshikado (よし門right)
Play:
Theater:
<![if !vml]>
<![endif]>
Actors: Onoe Eizabur˘ III as Oharu (left), Ichimura Uzaemon XII in an unidentified role (center), and Kataoka Ichiz˘ I as Igarashi (right)
Play: Tarutozome iroe no shiratami (鳴門染色絵白波)
Date: 1st month of 1833
Theater: Ichimura
<![if !vml]>
<![endif]>
Actors: Sawamura Tossh˘ I (left), Iwai Hanshir˘ VI (center), and Nakamura Shikan II as Kagekiyo (right)
Play: Goban Tadanobu yuki no nachiguro (碁盤忠信雪黒石)
Date: 11th month of 1832
Theater: Nakamura
áá
CLICK HERE TO RETURN TO MAIN PAGE
<![if !vml]>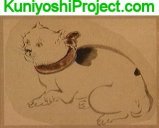 <![endif]>