<![if !vml]>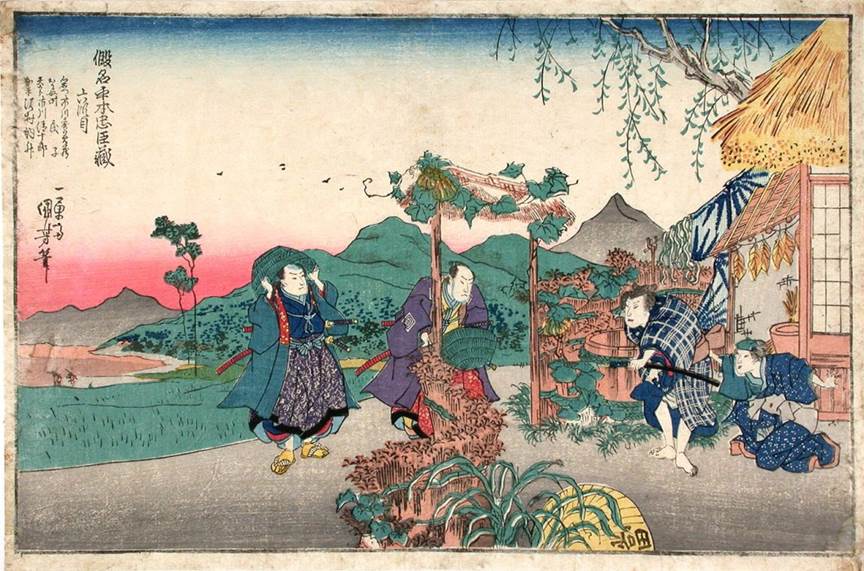 <![endif]>
Act: 1
Scene: Lady Kaoyo bowing towards Moronao (in black) with Enya and Wakasa at his side
<![if !vml]>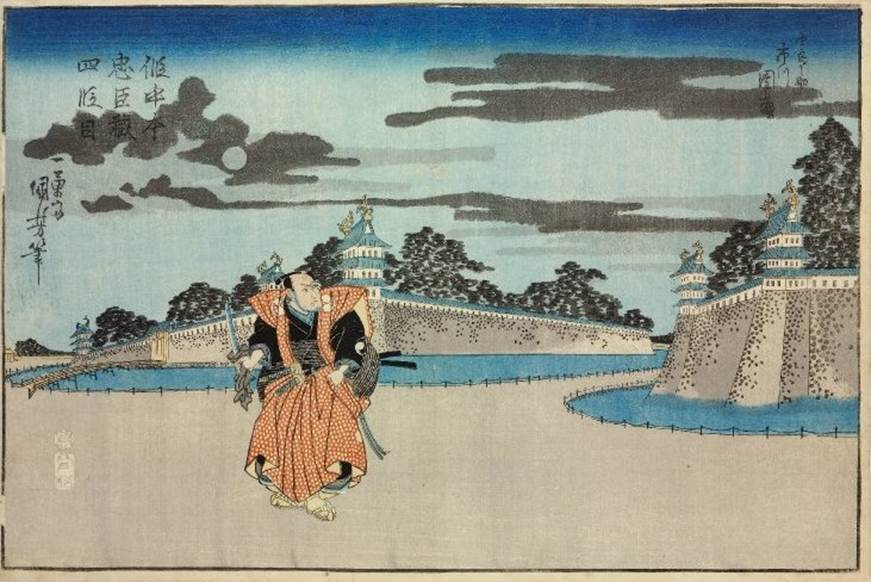 <![endif]>
Act: 2
Scene: Ichikawa Danjûrô VIII as Rikiya (son of Oboshi Yuranosuke), meeting Konami (daughter of Kakogawa Honzô)
I am grateful to Marc DeVriese for this image.
<![if !vml]>
<![endif]>
Act: 3
Scene: Okaru and a group of ruffians
<![if !vml]>
<![endif]>
Act: 4
Scene: Actor Ichikawa Danzô V as Yuranosuke outside the castle holding the dirk with which his lord had performed seppuku
NOTE: The publisher's and censor's seals are faintly visible near the left lower corner
<![if !vml]>
<![endif]>
Act: 5
Scene: Sadakurô (actor Ichikawa Sumizô III) robbing Yoichibei (actor Matsumoto Taisuke)
<![if !vml]>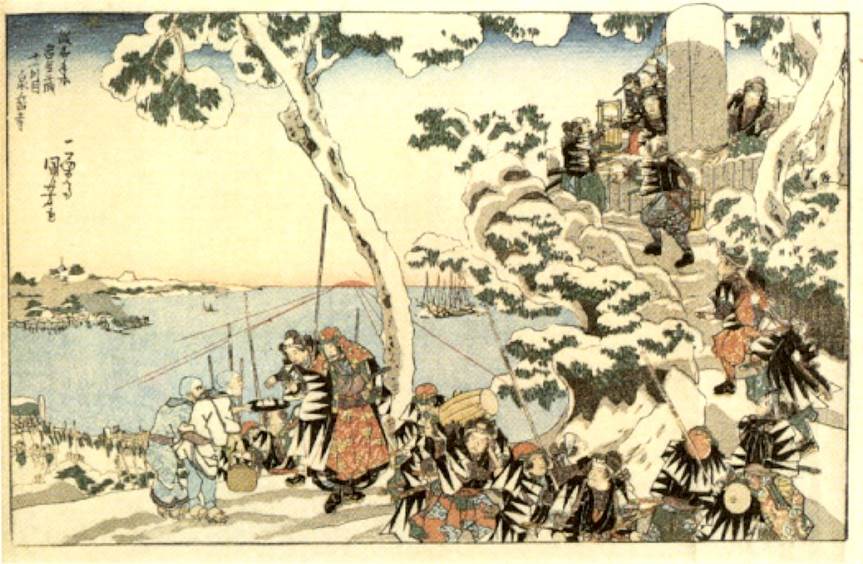 <![endif]>
Act: 6
Scene: Kampei receiving Yagoro and Goyemon at the door of Yoichibei's hut    
<![if !vml]>
<![endif]>
Act: 7
Scene: Yuranosuke being observer playing the fool at the Ichiriki Teahouse in Kyoto in order to allay suspicion that he was plotting revenge
<![if !vml]>
<![endif]>
Act: 8
Scene: On the bridal journey, Konami and her mother Tonase are resting under a tree with Mount Fuji in the background
<![if !vml]>
<![endif]>
Act: 9
Scene: Konami (left), Tonase and Kakogawa Honzô (right) at Yuranosuke's house
NOTE: This is a scene from the 1835 production of Kanadehon Chûshingura at the Morita Theater.  The actors are Morita Kan'ya X as Konami (小なみ), Sawamura Tosshô I as Tonase (となせ), and Ichikawa Danzô V as Honzô (本蔵).  I am grateful to Horst Graebner for information about this print.
<![if !vml]>
<![endif]>
Act: 10
Scene: The rônin testing Amakawaya Gihei's loyalty in his shop
NOTE: Gihei has the features of kabuki actor Ichikawa Ebizô V
<![if !vml]>
<![endif]>
Another state of the above design
<![if !vml]>
<![endif]>
Act: 11, Scene 1
Scene: The rônin in the snow surrounding Moronao
<![if !vml]>
<![endif]>
Act: 11, Scene 2
Scene: Yuranosuke and the rônin laying Moronao's severed head on their lord's tomb at the Sengaku temple (十一段目 泉岳寺)