<![if !vml]>
<![endif]>
Actors: Ichikawa Kodanji IV as Satsuma Tadanori (right), Ichikawa Gangyoku as Ubare no Tagohei (center) and Ichikawa Danjűr˘ VIII as Okabe no Rokuyata (left)
Play: Ichinotani mushae no iezuto (一谷武者画土産)
Date: 8th month of 1849
Theater: Ichimura
Publisher: Tsujioka-ya Bunsuke
<![if !vml]>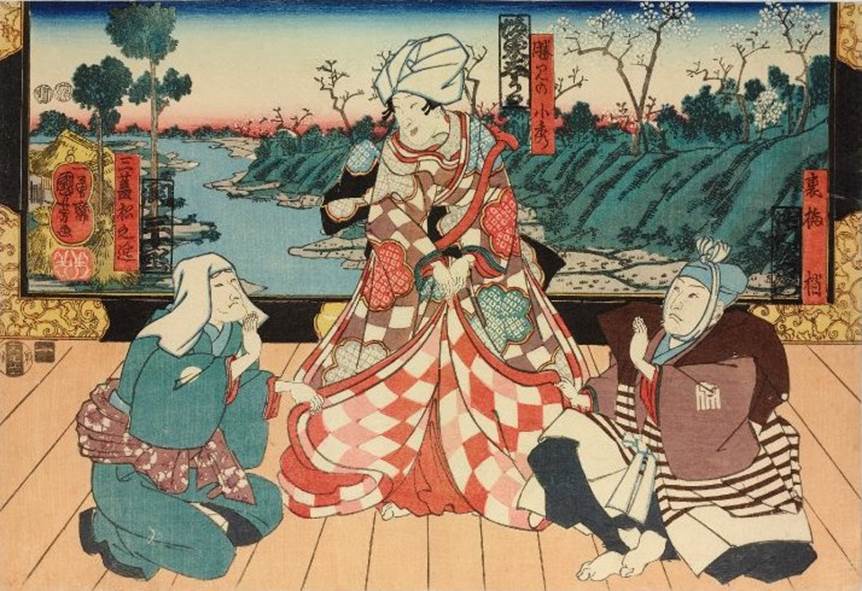 <![endif]>
Actors: Iwai Kumesabur˘ III as ďboshi Rikiya and Sawamura Chojur˘ V as Rikiyaĺs father ďboshi Yuranosuke (holding knife)
Play: Kanadehon Chushingura
Date: 7th month of 1849
Theater: Nakamura
Publisher: Tsujioka-ya Bunsuke
<![if !vml]>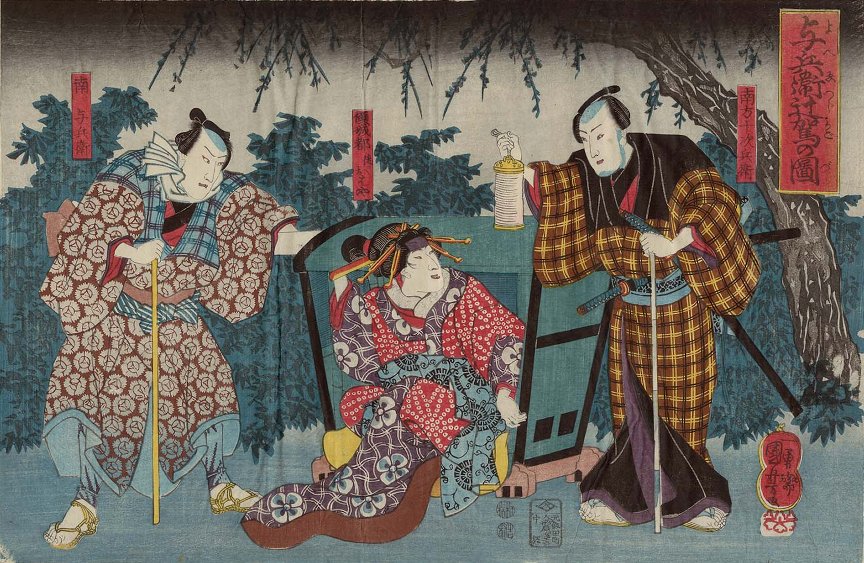 <![endif]>
Print title: History of Kanegafuchi (Kanegafuchi no Yurai, 鐘ヶ淵の由来)
Actors: From left: Fujikawa Kayu as O-Kumi of Eiraku-ya (娘おくみ), Ichikawa Danjűr˘ VIII as the retainer (shimobe) Yoshida Gunsuke (下部軍助), and Ichikawa Kodanji IV as Hanakawado H˘kaib˘ (花川戸法界坊), Nakamura Bungor˘ II as the head clerk (bant˘) Ch˘kur˘ (番頭長九郎) and Ichikawa K˘z˘ as the apprentice (detchi) K˘z˘ (てつち幸蔵)
Play: Kaidan Sumidagawa (怪談隅田川)
Date: 6th month of 1848 (censors Muramatsu and Yoshimura)
Theater: Ichimura
Publisher: Ningyo-ya Takichi
<![if !vml]>
<![endif]>
Actors: Onoe Baik˘ IV in a female role as Okaru (left) imploring Sawamura Chojur˘ V as ďboshi Yuranosuke (right) with a man crouched in hiding behind them
Play: Kanadehon Chűshingura
Date: 1849
Theater: Nakamura
Publisher: Tsujioka-ya Bunsuke
<![if !vml]>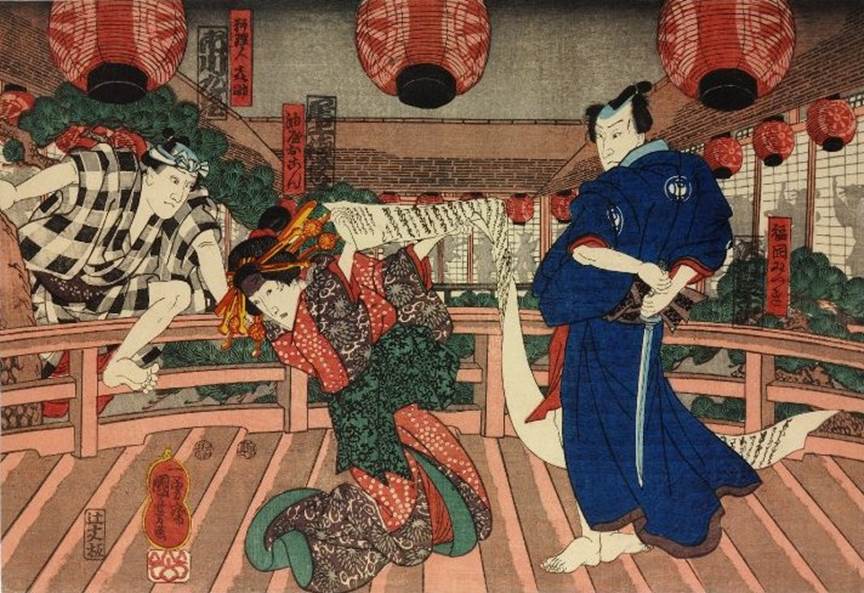 <![endif]>
Print title: Yohei etsuchi-kago no zu (与兵衛辻駕の圖)
Actors: Ichikawa Danjűr˘ VIII as Nanyohei (left), Band˘ Shuka I as the courtesan Miyake of Fuji-ya emerging from a palanquin (center), and Ichimura Uzaemon XII as Nanpo Jűjibei (right)
Play: Tsuma Mukaeiro no fumizuki (妻迎艶文月)
Date: 6th month of 1848
Theater: Ichimura
Publisher: Ningyo-ya Takichi
<![if !vml]>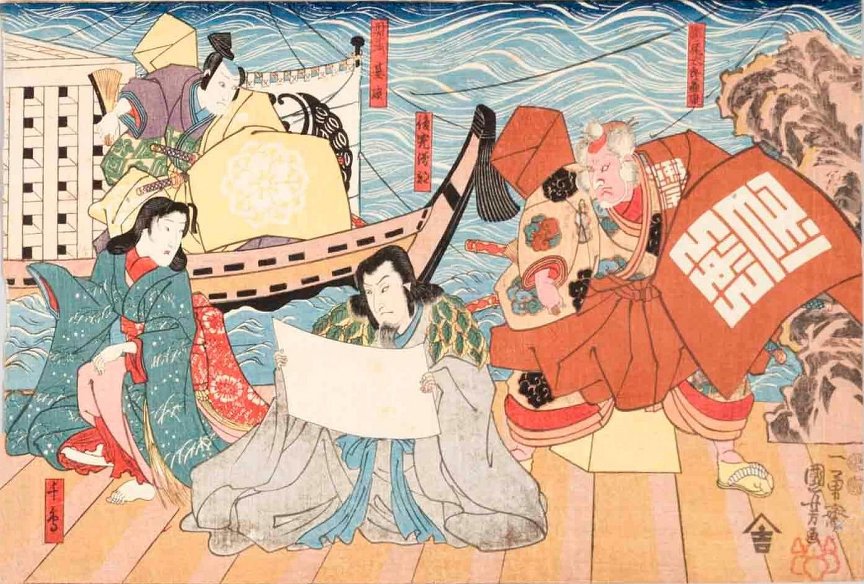 <![endif]>
Actors: Ichikawa Kuzo II as Kisuke (left), Onoe Baik˘ IV in a female role as Okon (centre) holding a scroll and being threatened by Sawamura Chojur˘ V as Fukuoka Mitsugi (福岡 みつぎ, right)
Play: Ise ondo koi no netaba (伊勢音頭恋寝刃, The Ise Dances and Loveĺs Dull Blade)
Date: 5th month of 1849
Theater: Ichimura
Publisher: Tsujioka-ya Bunsuke
<![if !vml]>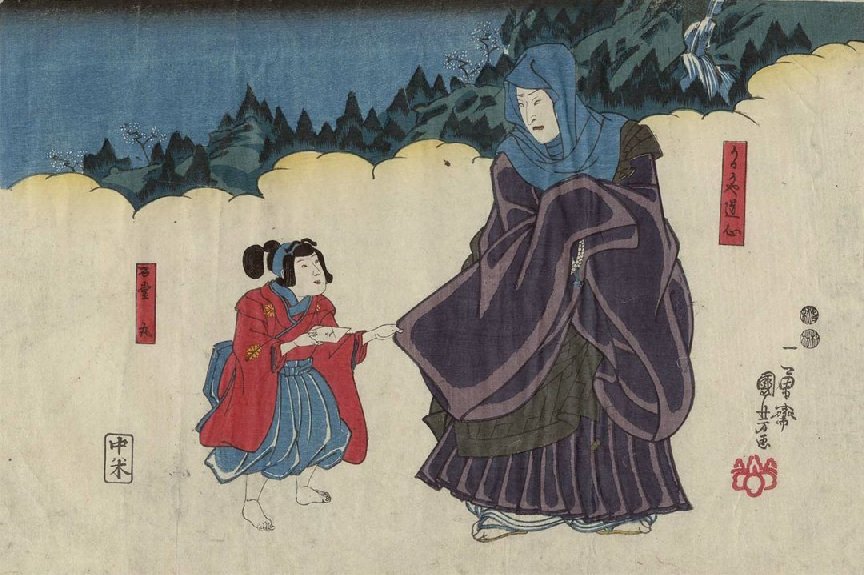 <![endif]>
Actors: Onoe Kikujir˘ II as the attendant of the geisha Sangoku (left), Ichikawa Danjűr˘ VIII as Tamaya Shinbei, Band˘ Hikosabur˘ IV as Demura Shinbei, and Ichikawa Kodanji IV as the cormorant fisherman Ukai Kujur˘
Play: Tsuki no demura tsuyu no tamaya (月出村白露玉屋)
Date: 8th month of 1849
Theater: Kawarasaki
Publisher: Tsujioka-ya Bunsuke
<![if !vml]>
<![endif]>
Actors: Sawamura Ch˘jűr˘ V as Hayano Kanpei (left, 早野勘平) and Ichikawa Kuz˘ II as Ono Sadakur˘ (right, 斧定九郎)
Play: Kanadehon Chűshingura (仮名手本忠臣蔵)
Date: 7th month of 1849 (censors Hama and Magome)
Theater: Nakamura
Publisher: Tsujioka-ya Bunsuke
NOTE: In Act V of Kanadehon Chűshingura, Hayano Kanpei shoots Ono Sadakur˘ by a river.á
<![if !vml]>
<![endif]>
This print is identical to the previous print, except that the names of the actors were added.
<![if !vml]>
<![endif]>
Actors: Top: Mimasu Gennosuke I as Chiharu, Ichimura Uzaemon XII as Yorinobu
Bottom: Band˘ Mitsugor˘ IV as Watanabe no Tsuna, Seki Sanjűr˘ II as Sadamitsu (貞光), Onoe Kikugor˘ III as Hidetake, Kataoka Ichiz˘ I as Kintoki (金時), and Ichikawa Danjűr˘ in an unidentified role
Play: Band˘ mushaá tsunagate Hajime (坂東武者綱手始)
Date: 11th month of 1832
Theater: Nakamura
Publisher:
NOTE: This is a diptych composed of two horizontal ˘ban sheets.á I am grateful to Marc DeVriese for this image.
<![if !vml]>
<![endif]>
Actors: Seki Sanjűr˘ III as Katsura Matsunoshin (三蓋松之進, left), Band˘ Shuka I as Katsumi-no O-hide (勝見の小秀, center), and Nakamura Utaemon IV as Uraume Kozue (裏梅梢, right)
Play: O megumi niuruo Iwafuji (恵閏初夏藤)
Date: 4th month of 1849
Theater: Ichimura
Publisher: Tama-ya S˘suke
<![if !vml]>
<![endif]>
Actors: Seki Sanjűr˘ III as Katsura Matsunoshin (三蓋松之進, left), Band˘ Shuka I as Katsumi-no O-hide (勝見の小秀, center), and Nakamura Utaemon IV as Uraume Kozue (裏梅梢, right)
Play: O megumi niuruo Iwafuji (恵閏初夏藤)
Date: 4th month of 1849 (censors Hama and Magome)
Theater: Ichimura
Publisher: Tsujioka-ya Bunsuke
<![if !vml]>
<![endif]>
Actors: Seki Sanjur˘ III as Katsura Matsunoshin (left), Band˘ Shuka I in a female role as Katsumi-no O-hide (center), and Nakamura Utaemon IV as Uraume Kozue (right)
Play: O megumi niuruo Iwafuji (恵閏初夏藤)
Date: 4th month of 1849
Theater: Ichimura
Publisher: Kobayashi Taijir˘
<![if !vml]>
<![endif]>
Actors: Ichikawa Danjűr˘ VIII as Musashibo Benkei, Band˘ Takesabur˘ I as Minamoto no Yoshitsune, and Ichikawa Kodanji IV as Togashi no Saemon
Play: Kanjincho
Date: 3rd month of 1849
Theater: Kawarasaki
Publisher: Izutsu-ya Sh˘kichi
<![if !vml]>
<![endif]>
Print title: 53 Stations (Gojűsan eki), Station 51 (Minakuchi)
Actors: Unidentified actor (left), Onoe Kikugor˘ III as Tenjiku Kaja Dainichimaru (天竺冠者, center), and Band˘ Shuka I as Todo hime (唐土姫, right)
Play: Onoe Kikugor˘ ichidai banashi (尾上梅寿一代噺, The Lifetime of Onoe Kikugor˘ III)
Date: 7th month of 1847
Theater: Ichimura
Publisher: Ezaki-ya Kichibei
<![if !vml]>
<![endif]>
Print title: 53 Stations Okazaki (Gojűsan eki Okazaki, 五十三次 岡崎)
Actors: Ichimura Uzaemon XII as Inaba no suke (因幡之助, left), Onoe Kikugor˘ III as the Spirit of an Old Cat (Koneko no sei, 古猫の精, center), and Sawamura Sojűr˘ V as Tamashima Itto (玉嶋逸当, right)
Play: Onoe Kikugor˘ ichidai banashi (尾上梅寿一代噺, The Lifetime of Onoe Kikugor˘ III)
Date: 7th month of 1847
Theater: Ichimura
Publisher: Ezaki-ya Kichibei