The One and Only Eight Dog History of Old Kyokutei,
Best of Refined Authors
(Kyokutei-ô seicho Hakkenshi zui-ichi, 曲亭翁精著八犬士随一)
Publisher: Nishimura-ya Yohachi
c. 1835
This series of prints is based upon the novel Nansô Satomi Hakkenden (The Biography of Nansô Satomi and the Eight Dog Warriors) written by Takizawa Bakin (1767-1848), who is here called Old Kyokutei.  By a rather complicated set of circumstances, Fusehime, the daughter of Lord Anzai of the Satomi Clan, gives birth to eight great warriors fathered by a dog.  The majority of the novel's 181 chapters relate their swashbuckling adventures.  Each panel in this series is about 14 by 10 inches (36 by 25 centimeters), a size known as ôban.
<![if !vml]>
<![endif]>
Description: Kempachi Nobumichi on the Hôryűkaku roof

Robinson: S5.2

Description: Inuzuka Shino Moritaka on the Hôryűkaku roof

Robinson: S5.1
<![if !vml]>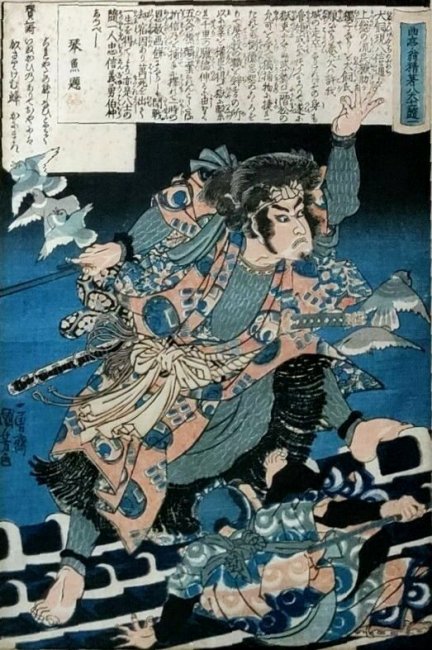 <![endif]>
 One sheet from another state of the above diptych
<![if !vml]>
<![endif]>
Description: Inue Shimbei Masashi on the shoulders of his protector attacked by a gang of roughs

Robinson: S5.4

Description: Inuda Kobungo Yasuyori (犬田小文吾悌須) attacked by a gang of ruffians 

Robinson: S5.3
<![if !vml]>
<![endif]>
Description: Inuyama Dôsetsu Tadatomo (犬山道節忠知) chopping at stone tank

Robinson: S5.6

Description: Inukawa Sôsuke Yoshitô (犬川荘介義任) cuts off the corner of a stone tank, revealing a shining jewel

Robinson: S5.5
<![if !vml]>
<![endif]>
Description: Inumura Daikaku driving his dirk into the monstrous cat-witch

Robinson: S5.8

Description: Inuzaka Keno Tanetomo struggling with four assailants

Robinson: S5.7