Set of Delicate Ladies of Our Country
(Honchô taoyame soroi no uchi, 本朝たおやめ揃の内)
Publisher: Wakasa-ya Yoichi
c. 1845
This series portrays women from history and legend against a background of stylized colored clouds.  The prints are each about 14 by 10 inches (36 by 25 centimeters), a size known as ôban.
<![if !vml]><![endif]>

Lady: Poetess Chiyo of Kaga (かが千代) standing with a fan and a blue pot of morning-glories beside her

Robinson: S33.1

<![if !vml]><![endif]>

Lady: Hotoke-gozen (ほとけごぜん), a shirabyôshi dancer who became Kiyomori's mistress, in traveling dress by moonlight

Robinson: S33.2

<![if !vml]><![endif]>

Lady: Kesa-gozen wearing a kimono with a wisteria pattern that is blowing in the breeze

Robinson: S33.3

  

<![if !vml]><![endif]>

Lady: Shizuka-gozen (しずかごぜん), a dancer who became Yoshitsune's mistress, standing and wearing a kimono with a hydrangea design, tied with a large black sash

Robinson: S33.4

<![if !vml]><![endif]>

Lady: Muro no Ukareme, a courtesan from Muro (present-day Murotsu) who is said to have been an incarnation of the Buddhist deity Fugen Bosatsu

Robinson: S33.5

 
"Robinson" refers to listing in Kuniyoshi: The Warrior-Prints by Basil William Robinson (Cornell University Press, Ithaca, NY, 1982) and its privately published supplement.
CLICK HERE TO RETURN TO MAIN PAGE
<![if !vml]>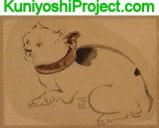 <![endif]>