Tips for the New Collector of Japanese Prints
* Most dealers who specialize in Japanese prints are both knowledgeable and honest.
* Most art galleries and print dealers that do not specialize in Japanese art are not very knowledgeable about Japanese prints.†
* Some high-end dealers carry mostly prints by important artists in fine condition, whereas others cater to the collector of less expensive prints in varying condition.† Always buy prints in the best condition that you can afford.
* When visiting high-end dealers at a shop or show, dress as if you can afford to purchase their offerings.
* When purchasing on the internet, be sure to understand the dealerís return policy, and always pay with a credit card.
* Handle as many prints as you can. With a little experience, you will be able to recognize the inks, paper and bleed-through of the genuine article.† A print composed of tiny dots under a magnifying glass (Ben Day dots) is never a genuine wood-block print. The most reliable way to authenticate a print is to compare it with an unquestionably genuine print.† The black lines and text should be identical, although the colors may vary in different examples of genuine prints.
* Be wary of framed prints.† Authenticity and condition are difficult to judge, and if the print is clued to a backing, its value is reduced.
* Be wary of prints of unusual sizes.† They may be cut-down.† Be familiar with the common print sizes.
* Older prints in mint condition may be reproductions.
* Some prints were originally printed with margins and others were not.† If a margin was originally present, it adds to the value of the print.† A print that has a margin, but was originally printed without a margin is a reproduction.
* Many prints were at one time bound into books.† Such prints have small holes in a line along one edge.† Although the holes are undesirable, such prints often have the best-preserved colors.
* Areas that appear to be printed in brown ink are often oxidized purple ink.
* If you buy one or two prints from a triptych, it is unlikely that you will be able to complete the triptych at a later date.
* Inspect your prints from time to time for insect damage and other misfortunes.
* If your prints are displayed on a wall, be sure that they are framed with acid-free materials and a Plexiglass that reduces their exposure to ultraviolet light.† Never hang them in direct sunlight.
* Warm LED lighting is best for rooms in which prints are displayed.† Daylight bulbs emit more light at the blue-violet end of the spectrum and more ultraviolet radiation.†
* Unframed prints should be stored between sheets of acid-free paper or matted with acid-free materials.† It is a good idea to mat all prints in a collection to the same size, so that they may be easily switched in and out of the same picture frames.
* Over a hundred thousand different Japanese woodblock prints exist.† Chose a field of concentration such as an artist, a subject, a print size, or a time period.
* Invest in one or more books on your chosen field of concentration.
* If you want to learn a little written Japanese, start with the numbers and artistsí signatures.
* If you ask a native speaker of Japanese to translate your prints, there is a good chance that you will both be embarrassed by his inability to read the prints.
CLICK HERE TO RETURN TO MAIN PAGE
<![if !vml]>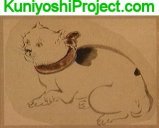 <![endif]>