Universal Divination by the Eight Trigrams, Illustrated
(Shûeki hakke e, 周易八卦絵)
Publisher: Jôshû-ya Kinzô
1837-1838
The eight trigrams are ancient Chinese symbols used in divination.  According to legend, Emperor Fu Hsi (24th century BCE) discovered them inscribed on the back of a tortoise.  The sixty-four hexagrams, which each constitute a unique vertical pair of trigrams, are dealt with extensively in the book I Ching.  Robinson lists only two prints in this series, and it is unlikely that any others exist.  They are each about 14 by 10 inches (36 by 25 centimeters), a size known as ôban.
<![if !vml]><![endif]>

Scene: Raijin (震雷), the thunder god, brandishing his drumsticks as he storms through the sky accompanied by a thunder-beast

Robinson: S11.1

<![if !vml]><![endif]>

Scene: Fûten (巽風), the wind god, manipulating his swirling bag accompanied by a storm-bird

Robinson: S11.2
"Robinson" refers to listing in Kuniyoshi: The Warrior-Prints by Basil William Robinson (Cornell University Press, Ithaca, NY, 1982) and its privately published supplement.
CLICK HERE TO RETURN TO MAIN PAGE
<![if !vml]>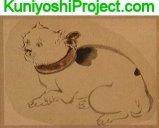 <![endif]>